Kids' Court School
"This is about my life and my life is important."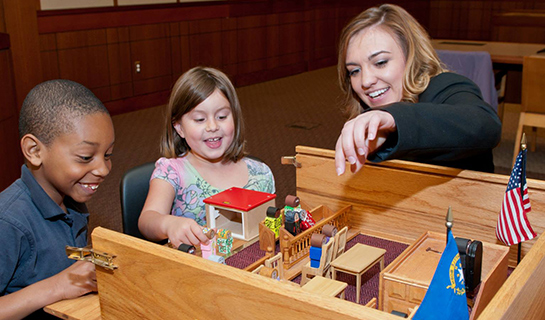 Our Program
The mission of the Kids' Court School is to educate children and youth about the investigative and judicial processes, utilizing a standardized, evidence-based curriculum in order to maintain the integrity of the legal process; to conduct ongoing research aimed at minimizing the potentially traumatic effects of the courtroom on children; and to serve as a training program regarding best practices for educating children and youth about judicial process.
"That's really always been my mission: to enable children to tell their story in court."
Kids' Court School News
Kids' Court Goes Virtual

COVID-19 has interrupted much of life as we know it, but we won't let it stop the Kids' Court School! Kids' Court School is now being offered virtually through Zoom. Children as young as 4-years-old have participated in this virtual program. It's amazing to see how technologically adept young children are!

UNLV Community Outreach Award

Professor Rebecca Nathanson was recently named a 2020 Faculty/Staff Community Outreach Honorable Mention Awardee for her leadership in Kids' Court School. The award is given annually to faculty or classified staff who have demonstrated exceptional commitment to UNLV-orientated community outreach activities. The Kids' Court School has served the Las Vegas community since 2002 and has served the State of Nevada since 2016. Over 1,600 children and youth in our community have participated in Kids' Court.

Nevada Bar Foundation Grant

Kids' Court School received a 2019-2020 Nevada Bar Foundation IOLTA Grant to employ a coordinator for the Kids' Court School. This has enabled us to expand our services to serve more children.

Kids' Court School hosted visiting representatives from Lebanon through the Department of State's International Visitor Leadership Program. The participants included individuals from the Internal Security Forces and the Emergency and Refugee Department of Lebanon. The visitors learned about the Kids' Court School program and had an opportunity to tour the Thomas & Mack Legal Clinic and the Thomas & Mack Moot Courtroom, where Kids' Court is held.

The UNLV William S. Boyd School of Law recently partnered with The National Judicial College (NJC) to expand to Northern Nevada its Kids' Court School, an award-winning program that educates children about the court process.

The Kids' Court School celebrated helping 1,000 children in Nevada. The Kids' Court School, a 2012 Harvard University Bright Idea Award winner, is a nationally recognized program that educates children and youth about the judicial process and teaches strategies to reduce system-related stress.

The Kids' Court School, run with the help of law students, garnered a Bright Idea award from Harvard University. The annual Bright Idea award recognizes programs that can be models for improving government at all different levels.

Preparing Children for Court: Effects of a Model Court Education Program on Children's Anticipatory Anxiety

A 2015 study showed that the Kids' Court School significantly reduces children's anxiety related to participating in the judicial process.

In a 2003 study, Drs. Nathanson and Karen Saywitz found that children who were questioned about a past event in a small private room demonstrated a heart rate of 60-120 beats per minute. Children who are questioned in a courtroom, however, demonstrated a heart rate between 60 and 240 beats per minute, indicating a significant increase in stress. This anxiety, coupled with limited knowledge of the legal processes may lead to incomplete, and sometimes inaccurate, testimonies in court.